iOSEmus is the 3rd party app installer available to provide you the best-tweaked apps and emulator those are not available on App Store. You must have landed to this page to find out how to download it on your iPhone or iPad. Following some below-mentioned steps, you can get it downloads easily.

Know how to use iOSEmus on your iOS devices like iPhone, iPad etc.
To download it go to the above link.
How to Use:
Using it is as easy as any other app.
Open the installed app from your device Home Screen.
Go to the Apps section at the below of the device screen.
Scroll down to find your favorite apps or games.
Tap the Get button beside it.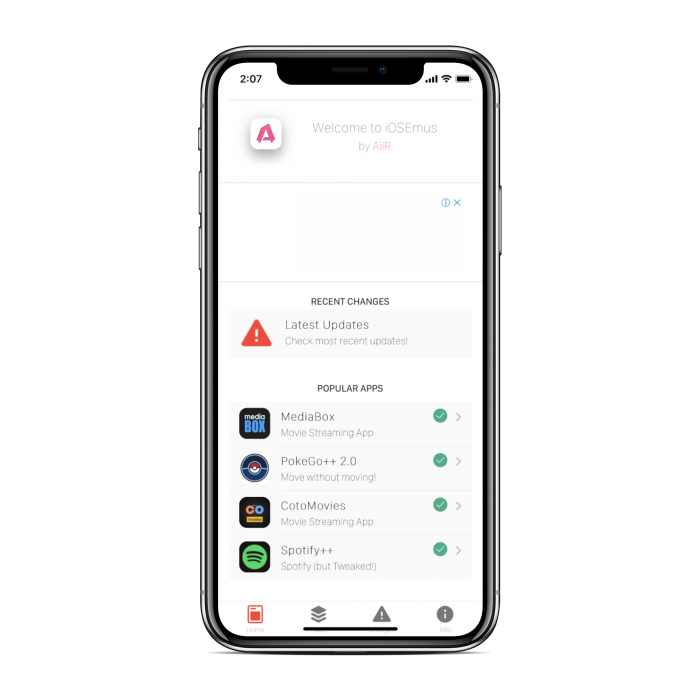 What is iOSEmus?
It is an app installer which provides you with a large amount of Cydia contents and tweaked apps, those you might not get on the App Store.
As Apple put restrictions on the user, unlike Android, you cannot install any app you want to get onto your iPhone or iPad. Earlier there was Cydia for you to customize your iOS devices with installing your favorite apps and games, now there are no Cydia or Jailbreak tools which used to provide your favorite apps and games.
This app can help you in multiple ways with different categories of apps and games.
Favorite App:
You can play a whole series of music with the custom playing options.
Top Game:
It allows you to play Pokemon Go on your iPhone or iPad with customizing features.
Top Emulators:
If you are looking to download GBA4iOS to play retro games this app store alternative will help you to do the same without letting you find it somewhere else.
Best iOSEmus Features:
If you are here to download some cool apps and games on your iPhone or iPad, you would be amazed to know it's features.
Very easy to Install following some simple steps.
All the Apps and Games updated on a regular basis.
Quick recovery from any errors.
It occupies very less space on your device.
Pros:
This App store alternative has some quality of features that can help you with many ways as follows.
It doesn't require your iOS device to get Jailbreak.
No need to use your Apple ID when installing it.
You can get a large number of Emulators, Apps, and Games from this single platform.
The Configuration Profile which will let you install this app is designed under Apple privacy.
Cons:
The cons you will face using this app are very few as mentioning below.
You will not get the same series of apps, games, and emulator what Cydia used to provide.
The apps get crashed in a month or two, but you can fix the issue with reinstalling the app to start enjoying the contents on it.
Frequently Asked Questions:
Yes, it does not contain any malware to its configuration file.
Is it Alternative to jailbreak?
Partially yes, as it does not contain the whole series of contents what Cydia used to have.
Does it Work on both iPhone and iPad?
Yes, you can install it on both iPhone and iPad.
How to Fix the white Screen Issue after Installing?
Just delete the existing iOSEmus and install it again can resolve your issues.
You can fix errors on it by clicking this < link >.